2015.7.16
Project Itoh "Harmony" a theatrical release date is announced!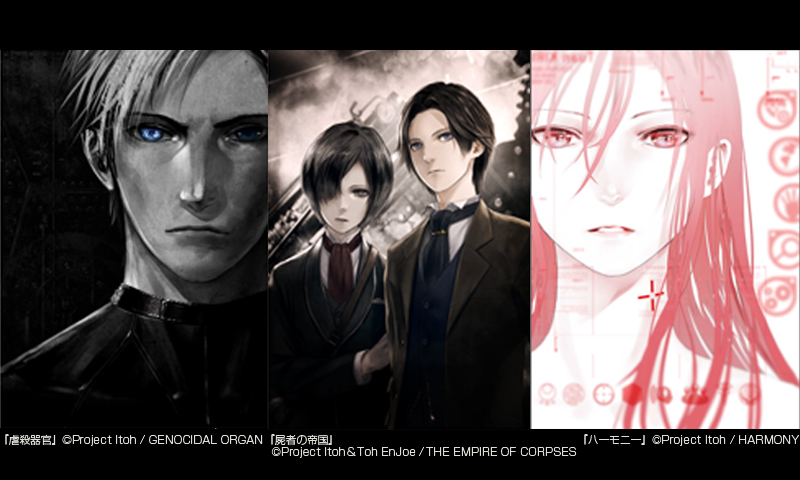 Project Itoh, which is getting much attention as the second wave of Fuji Television Network Inc.'s "noitaminA" late night animation slot's feature film adaptation program following "Psycho-Pass: The Movie," will be released in theaters.
Release dates of the trilogy "Genocidal Organ" "Harmony" "The Empire of Corpses" have just announced!

October 2nd (Fri)
"The Empire of Corpses"(Director・Ryotaro Makihara Animation Studio・WIT STUDIO)

November 13th (Fri)
"Genocidal Organ"(Director・Shuko Murase  Animation Studio・manglobe)

December 4th (Fri)
"Harmony" (Directors・Takashi Nakamura/Michael Arias  Animation Studio・STUDIO4℃)
Our film "Harmony" will be released on December 4th.
Please go watch the film on a big screen!

● EGOIST will sing theme songs!
Theme songs of all three films will be provided by EGOIST, an artist group produced by ryo (supercell) which was formed in the animation series "GUILTY CROWN" (2011). Character original designs are done by redjuice.

Titles of the songs are "Door" for "The Empire of Corpses," "Reloaded" for "Genocidal Organ," and "Ghost of a smile" for "Harmony."


Project Itoh Official Site
http://project-itoh.com/