2015.8.14
Red Ash –Magicicada– further fundraising OPEN!
With the success on the Kickstarter, the production of Red Ash –Magicicada–is officially confirmed!

We just opened the further fundraising through "STUDIO4℃FUN&" today!
(The campaign lasts ntil 14th October.)

At first, we aim to reach $127,118 of $260,000 (2nd goal), and make a total 30 min film.
While we keep the amount of the 2nd goal ($260,000) same as the original plan, we added 4 more minutes to the 2nd stage.


[12 min (1st stage/ funded on Kickstarter)] + [8 min + 4 min (2nd stage)] + [6 min Special Ending] = total 30 min
Also we divided $260,000 into two platforms: STUDIO4℃FUN& and Motion Gallery (for Japanese).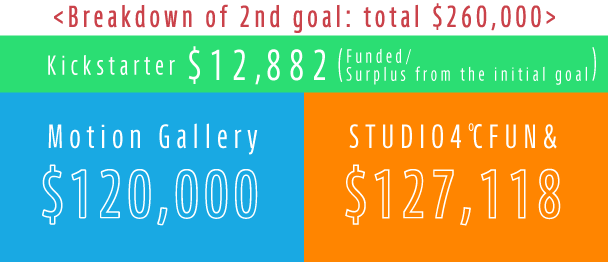 Breakdown of 2nd goal total $260,000
Kickstarter $12,882 (Funded/ Surplus from the initial goal)
STUDIO4℃FUN& $127,118
Motion Gallery $120,000
When we reach the goal of either STUDIO4℃FUN& ($127,118/ international fundraising) or Motion Gallery ($120,000/ fundraising in Japan), STUDIO4℃ confirms the production of the 2nd stage. (In case the total amount does not reach $260,000 by the end of the two campaigns on 14th Oct., STUDIO4℃ will try and secure budget for the shortage.) We will go for the next 3rd goal when total $260,000 is funded.
In case both platforms fail to reach the goal, raised fund will still be used to create animation, in proportion to the amount of fund, such as extending runtime, making spin-off story of the main characters, or creating opening animation!
Backers can upgrade pledges made on the Kickstarter.
Let's try and hit stretch goals to watch more exciting stages!
Go to the campaign page for more details.
STUDIO4℃FUN&:
www.fun-and.studio4c.jp