2016.2.6
【Tekkonkinkreet】 10th anniversary from the theatrical release!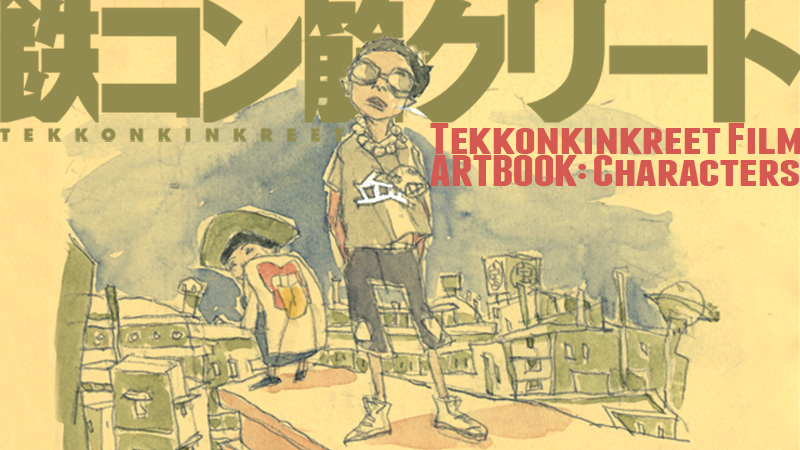 ©2006 Taiyo Matsumoto/Shogakukan, Aniplex, Asmik Ace, Beyond C., dentsu, TOKYO MX
As a celebration of 10th anniversary since the theatrical release of the film "Tekkonkinkreet," exciting events are coming up in Japan. Also a new artbook focusing on characters will be released WORLDWIDE on April 6th! (Shiro's day)

<ABOUT EVENTS>
Event title: Tekkonkinkreet 10th Anniversary Genga/ Key animation Exhibition (working title)
Start date: April 6th (For 2 months)
Details: Exhibitions of key animations, image boards, character designs, background arts, and more
Venue: Fukushima Sakura Yugakusha

Coming-up events will be informed on the 10th Anniversary Special Campaign page!


<ABOUT ARTBOOK: Characters>
■ Title: Tekkonkinkreet Film ARTBOOK: Characters
■ Release date: April 6th (Shiro's day)
B5 size, hardcover, 192 pages, 2,980 yen
Contents: Character designs, image boards, key animations, and more.
(Captions and texts are in Japanese.)

The new artbook includes never-been-published materials, such as character designs, image boards, and key animations. Following the former two books, Tekkonkinkreet Film ARTBOOK Kuro (Black) side and Shiro (White) side, which included background arts and met with an enthusiastic reception, it is the third bullet for all animation fans! More sample images will be introduced here soon.